Indoors and Out, Bryan's Finest Event Spaces
Spanning more than 20,000 square feet, The Stella Hotel's meeting and event space is unlike anything in the Bryan/College Station area. Highlights include the 4,307-square-foot Celeste Ballroom, which can be divided into three separate smaller meeting spaces, as well as the Back Yard, an expansive, beautifully manicured lawn ideal for outdoor weddings, barbecues and social events.
Celeste Ballroom | 4,307 SF
Our sparkling Celeste Ballroom accommodates up to 479 guests, theater-style, or 431 for a reception.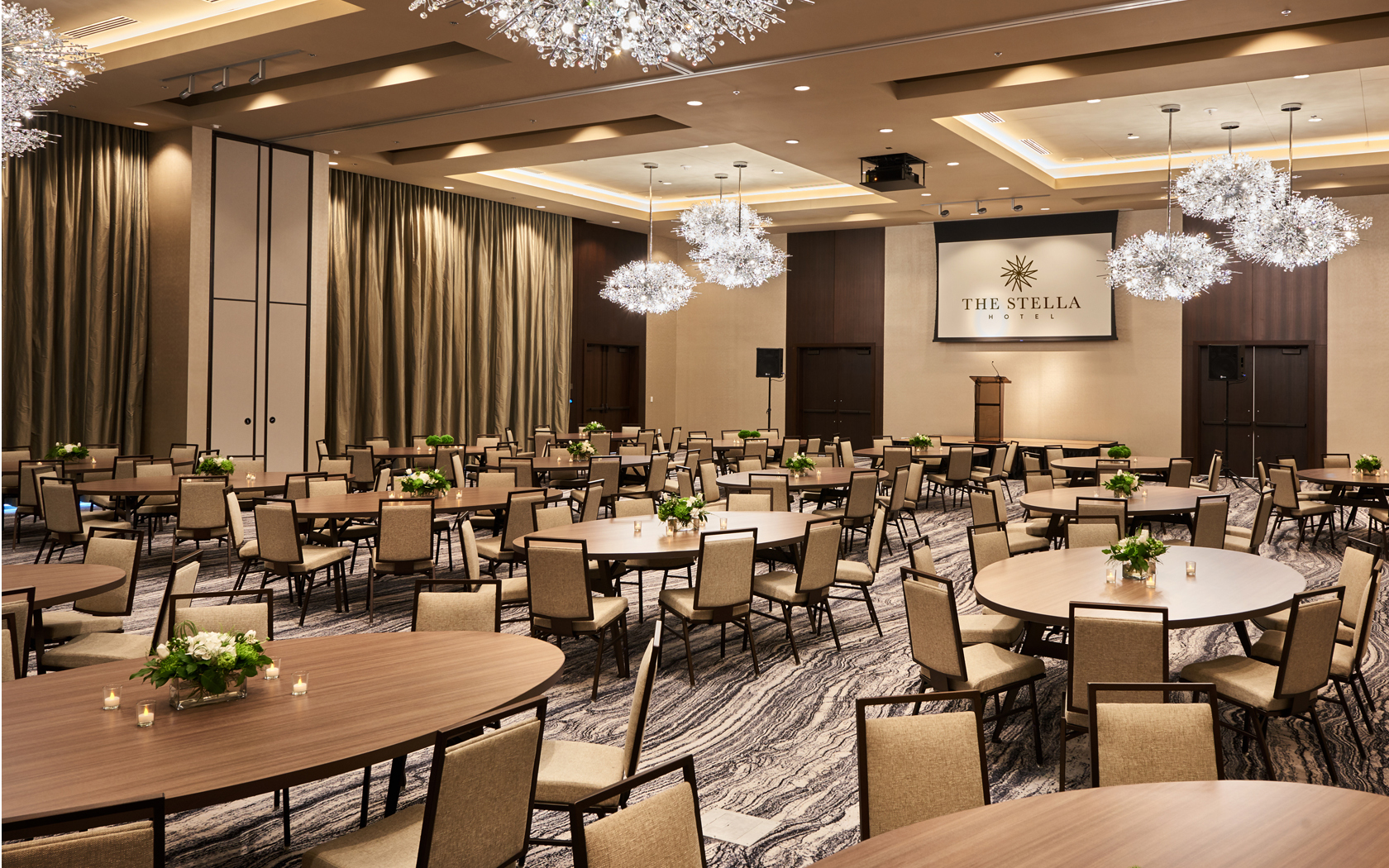 Aurora | 1,079 SF
The Aurora room accommodates up to 94 guests, theater style, or 96 for a reception. The room can also be divided in two for smaller occasions.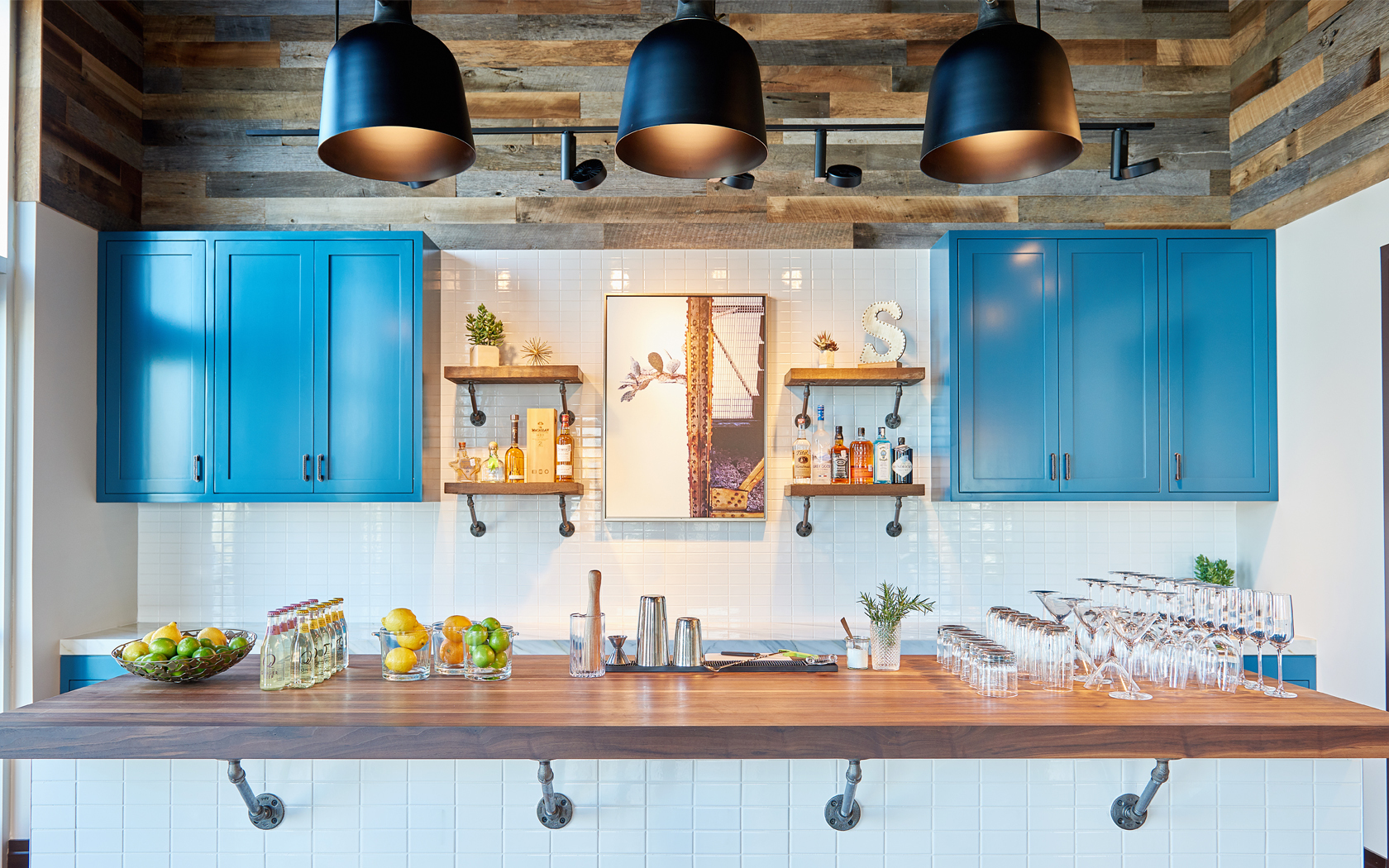 Luna | 368 SF
Perfect for small conferences, the Luna meeting room accommodates 10 to 42 guests, depending on the layout.
Orion Boardroom | 466 SF
Accommodating up to 12 guests at a handsome boardroom table, the Orion is ideal for executive board meetings.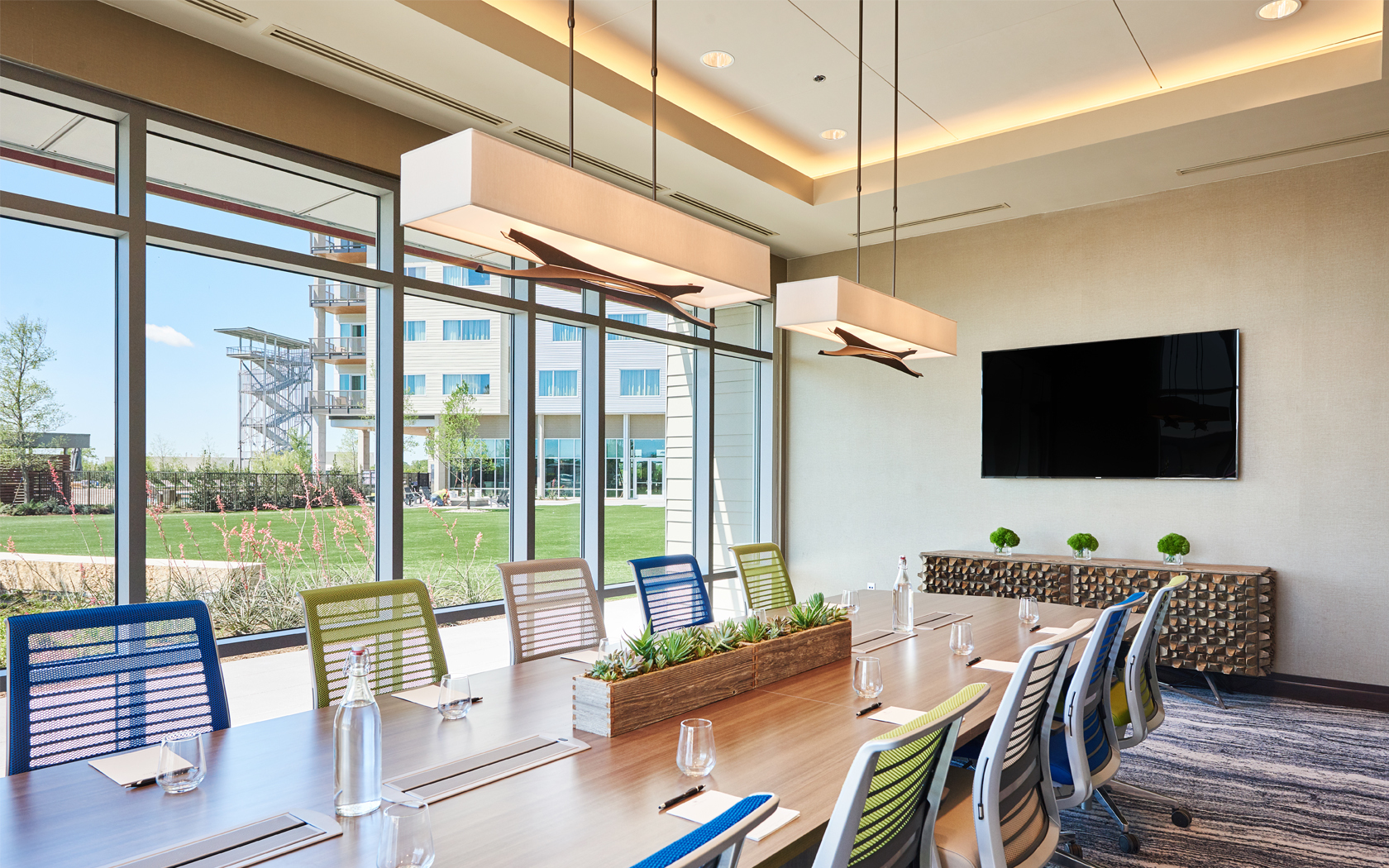 The Back Yard | 10,000 SF
Measuring 100' x 100', the Back Yard is a picture-perfect setting for outdoor events of every kind, including outdoor weddings, picnics and casual get-togethers for up to 500 guests.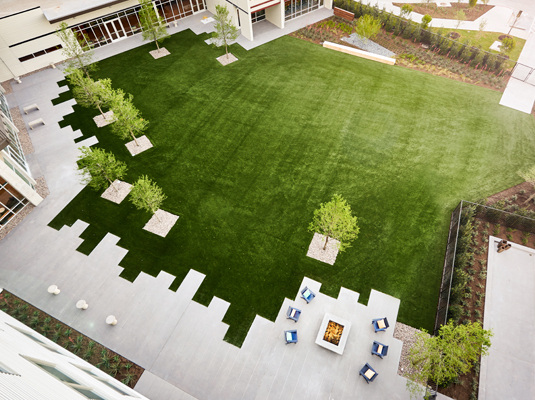 Pre-Function Space
Our gorgeous 3,762 square foot space adorns floor to ceiling windows with panoramic views of the Back Yard. This multifunctional space is perfect for receptions, buffets, or registrations for your event at The Stella Hotel. The Pre-Function Space can also be used in conjunction with other meeting and event spaces to better accommodate the flow of your event.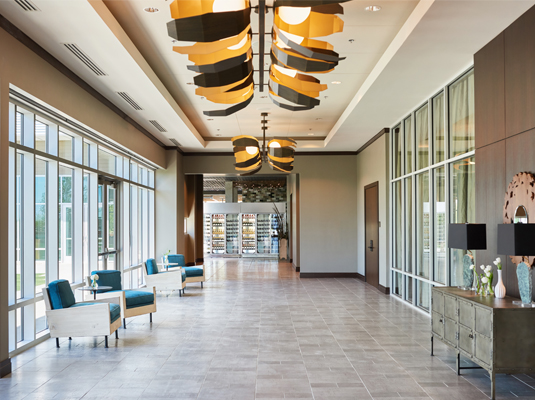 Flexible Meeting RoomsPerfect for business or social events
| Meeting Room | Size (Sq ft) | WxL | Ceiling Height | Classroom | Theatre | Reception | Conference | Banquet | U-Shape | Photo |
| --- | --- | --- | --- | --- | --- | --- | --- | --- | --- | --- |
| Celeste | 4,307 | 76' x 56' | 16' | 180 | 479 | 431 | 104 | 359 | 123 | Expand Photo |
| Celeste A | 2,159 | 38' x 56' | 16' | 90 | 240 | 216 | 52 | 180 | 62 | |
| Celeste B | 1,079 | 38' x 28' | 16' | 45 | 120 | 108 | 26 | 90 | 31 | Expand Photo |
| Celeste C | 1,069 | 38' x 28' | 16' | 45 | 119 | 107 | 26 | 89 | 31 | Expand Photo |
| Aurora | 1,079 | 61' x 17' | 13' | 36 | 94 | 96 | 24 | 60 | 20 | Expand Photo |
| Aurora A | 463 | 26' x 17' | 13' | 20 | 50 | 48 | 12 | 30 | 10 | Expand Photo |
| Aurora B | 634 | 35' x 17' | 13' | 20 | 50 | 48 | 12 | 30 | 10 | |
| Luna | 368 | 25' x 14' | 11' | 16 | 42 | 38 | 10 | 32 | 12 | Expand Photo |
| Orion (Boardroom) | 466 | 18' x 26' | 11' | | | | 12 | | | Expand Photo |
| The Back Yard | 10,000 | 100' x 100' | | | | | | | | Expand Photo |
| Pre-Function | 3,762 | | | | | | | | | Expand Photo |
For more information please contact
sales@thestellahotel.com